What Is A Hire Purchase Car Loan?
What is 'Hire Purchase'?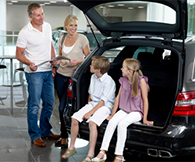 Hire Purchase is the most common type of car loan offered when you apply for car finance and is ideal if you are looking for a simple agreement with fixed monthly payments that allow for ownership of the vehicle once all the payments have been made.
Hire Purchase car loans are technically hire agreements, as the finance company purchase the vehicle and then hire it to you. Once you pay the option to purchase fee at the end of the term, the ownership passes to you. So if you want to own your car, don't worry too much about the terminology as with this type of agreement you will always be the owner of the vehicle as long as you pay your car loan back in full.
Unlike a lease agreement, with a hire purchase agreement you will be the registered keeper on the V5 registration document and you are responsible for maintaining, insuring and paying for the road fund license each year.
The interest rate is fixed on a so even if bank interest rates go up your payments will not, this will help you budget your finances. The length of the car loan is also fixed, generally for 3 to 4 years although lenders do offer car loans for up to 5 years if your credit rating is good and the vehicle is suitable.
Hire purchase car loans can also be easier to obtain than personal bank loans as the finance company use your car as security for the loan. If you stop paying your repayments they can sell it to recoup their money. This means they are more likely to accept your application in the first place and can be more flexible on the terms and interest rates that they offer.
Can I sell the car before the end of my finance agreement?
If you wish to sell the car before the agreement comes to the end you are within your rights to do so but you are obliged to pay the outstanding amount on your car loan. Simply contact your finance company and request a settlement figure which is generally valid for 10 days.  You are also entitled to make part repayments, so if you have saved some money up and want to pay off some of the loan you can ask the finance company to reduce your payments or reduce the term to take this in to account.
So in summary, Hire Purchase car loans are easy to arrange, have low deposits, fixed interest rates, fixed payments and finally, as they are regulated agreements you will have additional protection and rights under consumer law.
If you have any questions or would like to apply for a loan call us or complete the application form online.
Apply Now For FREE Decision