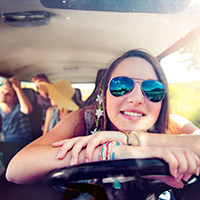 Car Finance Calculator
Purchasing your new car is an exciting time but before you rush into the showroom, consider how much it's going to cost in total.
If you plan to buy the vehicle with the use of car finance, you need to work out the repayments you are likely to be paying each month and ensure they fit your budget.

'Brilliant from start to finish made it very easy for me to purchase my vehicle. Top quality customer service from all at Car Loan Warehouse. I would recommend to anyone and everyone.'
Calculate your loan
Use our free car finance calculator to help you make a sensible buying decision.
This is a major consideration but oddly one that many people overlook until they have decided upon the dream car, only to be disappointed once they try to arrange car finance.
Don't also forget to consider other major running costs involved like insurance premiums, road tax, servicing and tyres. With the rising cost of fuel it is also worth working out the monthly cost of putting petrol or diesel in the tank. Most car manufacturers advertise the MPG (miles per gallon) that their cars should do although you will need to take this with a pinch of salt as these figures are produced using a brand new car on a test track with the wind behind!
Using the car finance calculator
First set the sliders to the size of loan required on the calculator, loan sizes range from £3000 to £50,000 although larger loans are available so if you need more contact one of our advisors for a personalised quote.
Next set the repayment slider to the length of time that you would like to repay the loan. (The term) This starts at 12 months and goes up to 60 months. Balloon payments are also available to help keep payments down so if you are buying something fairly new and would like a quote with a balloon payment, telephone us for an example.
Now select your estimated credit score on the car finance calculator slider using the credit history explanations beneath for guidance.
You will now be able to see a typical loan example with the monthly payment, APR and total amount repayable.
Click "Apply now" to get approved.

Questions? CALL 0800 066 2888
Our experts are always ready to help
Make it affordable
The Car Loan Warehouse provides this useful car finance calculator as a great tool used to work out monthly repayments, typical APRs and total amounts repayable. Please do remember that it is designed to only give you an indication of loan payments and a firm quote cannot be given until you have made a full application has been made and a credit search has been carried out. Interest rates and payments will also vary depending on the type of vehicle you wish to buy, its age and whether you wish to buy privately or from a dealer.
(8.9% APR illustration)
Apply Now
This does not constitute a quote, rates may vary depending on personal circumstances.

Quick, Easy Approval
On average loans are approved within 60 minutes of submitting your details to us