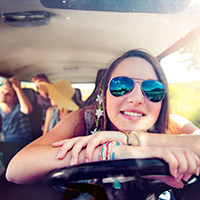 Paying Off Car Finance Early
Find out everything you need to know about settling your car finance agreement early, and understand which option is best for you.
Below is some good advice on the whys and wherefores of car finance and early settlement, if there's anything we've missed, just call.
Can I Settle Car Finance Early?
Thinking of selling your car but still have secured finance outstanding? Don't forget the legalities when it comes to paying off car finance early:
You are legally required to pay the remaining payments when you sell the car
The finance company legally owns the car until you've repaid the loan
They can recover the car from the new owner if you sell it without informing them
Selling your car without settling car finance early can be tricky, as finance companies register their financial interest with HPI and Experian databases – which car dealers and most car buyers will check before they part with their money.
If you're looking for a new car loan or want to refinance your current car, give our team of friendly experts a call on 0800 066 2888 to discuss the ins and outs of paying off car finance early – obligation free!
How can you pay off car finance early?
If you want to sell your car, it's actually relatively simple to arrange with a couple of phone calls – and we'll even help you out with a list of popular finance companies' telephone numbers:
Contact your finance company and ask them for a "settlement figure"
This is the amount of money they require to pay off your loan in full
Your settlement figure is generally valid for 10 days (but there'll be a 'valid until' date on the letter they send to you)
If your direct debit is due shortly, don't forget to ask how this will affect the figure
How are settlement figures calculated?
If your monthly payment is £200 and you know you still have 15 payments left to make, you might assume you'd owe £200 X 15 = £3000. In fact, your monthly payment includes interest which you don't have to pay on the remaining 15 months – as you're paying off a car loan early.
You have a legal right to ask for a settlement figure, and to settle your agreement early under the Consumer Credit Act (CCA) – and you'll be entitled to a rebate of interest charges under your agreement for the period of the loan remaining. So, in other words, you don't have to pay interest on what's left of your repayment plan if you pay it off early.
There may be a small interest penalty of a month or two and an admin fee, but it should still be less than the sum of your remaining payments – and you can always call your lender for an accurate settlement figure.
Your options
Part exchange with a dealer
If you're thinking of buying your next car from a dealer, you can ask if they'd consider taking your old one as part payment or 'part exchange'. If they offer you a sensible figure for it, give the dealer your settlement figure letter from the finance company and they'll arrange to pay the outstanding loan when you pick up your new car.
For example, if they were to offer you £10,000 for your old car and your settlement figure is £7000, you'd have £3000 left over to go towards your new car after paying off your old agreement (this £3000 is often referred to as your 'equity').
Ask them to pay the settlement by direct transfer or debit card and not by cheque so that the funds are cleared and your account will be closed straight away. Payment by cheque could result in a delay and further interest charges being accrued – which you'll be responsible for, rather than the dealer. It's also worth asking the dealer to get you a letter of 'no further interest' from your finance company to prove that they've settled your agreement.
If you need another car loan to pay for your new car, the 'equity' you have left over from your last car will go towards the deposit on your new one. All you need to do is apply for a new car loan with The Car Loan Warehouse and they'll speak to the dealer directly to organise payment.
Sell privately
It can be worth making the effort to sell privately, so you can get more for your car instead of giving a dealer the opportunity to make a profit. This isn't always easy, as buyers might want to arrange finance or need to trade in their old car to make it possible – but if you prepare your car well and give it a good clean, this is definitely worth a try.
Having outstanding finance is also likely to put buyers off, unless you deal with it in the right way – so always be up-front and explain to buyers that you're paying off car finance early and have a settlement figure in writing. If you can't afford to pay the settlement figure yourself prior to selling your car, ask your buyer to do this when he collects it from you.
When your buyer comes to collect your car, either have them phone your finance company and pay the settlement figure with their debit card or use their online banking for a faster alternative. Once they've done this, speak to the finance company yourself and ask them to confirm receipt of the money, and request that they fax or email you to confirm the account has been closed.
If the settlement figure is less than the sale price of your car, the buyer will need to pay you the rest of the money in cash or via bank transfer. If the settlement figure is higher than the sale price, you'll need to pay the buyer the difference.
Don't forget to cancel your direct debit with the finance company, just in case they're about to take another payment from you and forget to cancel the payment in time.

Questions? CALL 0800 066 2888
Our experts are always ready to help
Do you owe more than your car is worth?
If you want to sell your car but find that your car is worth less than your settlement figure, you still have a few options in terms of settling car finance early:
You can pay the difference out of your savings.
You can refinance this difference with a top-up loan or personal loan.
If you've paid at least half of the amount repayable in your finance agreement, you may be able to return the car to your finance company and let them worry about it. This is called 'voluntary termination' and, depending on the type of agreement you have, this could save you thousands!
For top-up loans or free advice on voluntary termination, contact one of our advisors on 0800 066 2888.
Arranging your next car loan
Once you've identified the best option for you, it may be time to arrange car finance for your next car.
At The Car Loan Warehouse, we can arrange competitive car loans – helping you to buy from any UK car dealer or private seller, even if you're suffering from a bad credit score.
Get in touch today to discuss your options, or fill out our apply online for a decision within 60 minutes. To find out how much you could borrow, check out our online car finance calculator for an instant quote.
List of Common Finance Company Contacts
(8.9% APR illustration)
Apply Now
This does not constitute a quote, rates may vary depending on personal circumstances.

Quick, Easy Approval
On average loans are approved within 60 minutes of submitting your details to us