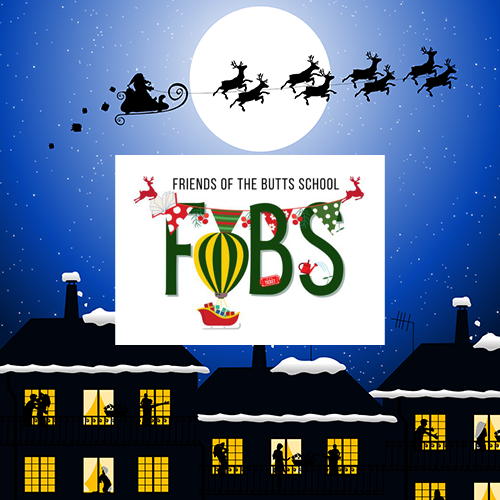 The Butts School Advent Walk
Our walk is approximately 2 miles long. On the way you will discover 24 beautifully decorated Christmas windows, each with a different theme.
There's an exciting quiz to accompany your walk with one question based on each window, along with a hidden letter in each to solve a festive anagram at the end.
We anticipate that you will spend between 60 and 75 minutes in total depending how little are your group's littlest legs! There is no need to do the walk in the suggested order, or in just one session, so feel free to take it at a pace that suits you.
Our windows will be 'open' from 1st to 20th December. They can be viewed in the daytime but will also be lit from dusk until 7pm each evening.
Get Involved
Entries for the quiz must be received by midnight on 20th December and winners will be notified by email by 22nd December.
All proceeds from our walk will be going to Friends of The Butts School. We are currently fundraising to create a wonderful kitchen in the school for use by the children, alongside other experiences and equipment to improve the childrens' school lives.
Please use Paypal to donate a minimum payment of £3. We are very grateful for your generosity.
Enter your name as the reference and use the same name on your quiz sheet so that we can verify your payment prior to entering your name into our correct answer draw.
WIN Great Prizes
Thanks to our generous local sponsors we are offering fantastic prizes for three correct answer sheets, drawn at random, after the closing date.
1st Prize – Meal for 2 at the Alton Curry Palace & Goodies for kids
2 x Runner Up Prizes – Bottles of bubbly and chocolates
Our Fantastic Sponsors
A huge thank you to all those involved including our generous sponsors, your support is very much appreciated.
The Curry Palace are offering dinner for two, Bourne Estate Agents have donated bubbly and chocolates and the Car Loan Warehouse are hosting our webpage.
Directions
Standing with your back at the Whitedown school entrance, turn right and then take the first right turn into Helens Close. Once in the close, take the second right to find your first window – 17 Helens Close.
Now retrace your steps back up Helens close and turn right down Albert Road. Your second window is at the end of the road, on the left – 2 Albert Road.
Proceed to the end of Albert Road and turn right along The Butts. You will quickly find window three – 58 The Butts
Now turn back in the direction that you have just come from and walk past the end of Albert Road and along until you come to Borovere Gardens. Turn left into Borovere Gardens and find window number 4, a short way down on the right hand side – 12 Borovere Gardens.
Return back to Butts Road and turn left. Please then cross the road carefully and then turn right straight after the fire station into Tower Street. Window number 5 is situated a short way up on the left-hand side – 8 Tower Street.
Walk part of the way back down Tower street and turn right into Old Acre Road, behind the petrol station. Walk all the way along Old Acre Road. At the end turn right. Your 6th window is on the corner of Old Acre Road and Mount Pleasant – 4 Mount Pleasant.
Continue up Mount Pleasant until you arrive at window 7 on the left side – 49 Mount Pleasant.
Return down Mount Pleasant all the way to Butts Road. Carefully cross and turn left. Then take the first right into Ackender Road. Window 8 is in the first row of houses on the left – 15 Ackender Road.
Continue up Ackender Road and you will come to window 9 on your right – 62 Ackender Road
Shortly followed by window 10 on your left – 81 Ackender Road.
Take the next left up Queens Road. Window 11 is on the right hand side – 75 Queens Road.
Now take the next right into Kings Road. The next 4 windows are all on the left-hand side of the road – 9a Kings Road, 11 Kings Road, 25 Kings Road & 35 Kings Road.
Now retrace your steps back past window 14 and then take the first right turn down Oakwood Drive. Just past the bollards take a right turn up a small slope into a development of new houses. Window number 16 is just to your left – 75 Bolle Road.
Return out of the development back onto Bolle Road and turn right. Your next window is the last house on the left of this row – 82 Bolle Road.
Continue along Bolle road until you find window number 18 on the right – 49 Bolle Road.
Continue to the end of this road, turn left and then immediately right along Downsway. Window number 19 is on your right – 7 Downsway.
Continue right to the end of Downsway and then cross the main road (A339), taking great care. Turn left along the A339 and then take the first right turn and immediately turn right again up Dashwood Close. Continue to the top of the close to find window number 20 – 11 Dashwood Close.
Return back to the main road, crossing again with care. Now turn right down the A339 and then take the first left onto Bolle Road and immediately left again along the small service road to find window number 21 – 16 Whitedown Lane.
Retrace your steps to Bolle Road and turn left. Your next house is on the right – 8 Bolle Road.
Continue along Bolle Road, following it around as it curves to the left. Your final two windows are on your right – Window 23 – 56 Bolle Road & Window 24 – 60 Bolle Road.
You have completed our Advent Walk – Well Done!!
If you wish to return to the start you can now walk back past window 23 and continue straight down Bolle Road, do not curve back to the right.
You will find a small alleyway on your left which takes you back through to Helens Close and back to the starting point.
Important Information
The walk takes place around residential streets of Alton and you undertake the walk at your own risk. We would strongly advise that you stay on the pavements at all times where possible and please take great care crossing roads. All of the roads are lit by street lamps but we would advise taking a torch if planning to walk the route at dusk or in the evening. Please wear sensible footwear and clothing suitable for the weather. Please keep a close eye on your children, especially around parked cars. Please do not allow children to undertake this walk without adult supervision.
COVID information
Do not undertake the walk if you are feeling unwell in any way and please do not undertake the walk if you have been advised to self-isolate.
Please only participate in the walk within family groups or group sizes allowed according to government advice at the time of walking.
Remember to remain 2 metres away from other members of the public who are not within your family group. This may require you to cross to a different pavement or to wait until another group has viewed the advent windows before you proceed to view.
Please do not step within the boundary of any of the properties participating in the advent walk. All windows can be viewed from the pavement.
Please do not ring doorbells, touch gates or touch the window glass.
We would advise you to carry hand sanitiser which you can use should you inadvertently touch a surface which you are concerned may be at risk of contamination.